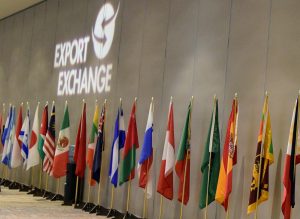 More than 200 international buyers and end-users of coarse grains and co-products from some 35 countries are in Minneapolis this week for Export Exchange 2018.
The biennial educational and trade forum, co-sponsored by the U.S. Grains Council, Renewable Fuels Association (RFA), and Growth Energy, offers attendees an unparalleled opportunity to meet and build relationships with domestic suppliers of corn, distillers dried grains with solubles (DDGS), sorghum, barley and other commodities.
In addition to networking opportunities, USGC CEO Tom Sleight says Exchange attendees will be briefed on the global supply and demand situation, food safety regulations, agribusiness, the current U.S. policy environment and more. "We're in a really strong, competitive situation right now for feed grains and that's really fueling us," said Sleight.
This is the fifth Export Exchange conference since 2010 and RFA chief economist Scott Richman says it is a very important event for increasing exports of the ethanol co-product DDGS. "These are a lot of our customers in some of the key destinations for exports of distillers grains for the U.S. ethanol industry," said Richman.
Listen to or download interviews with both Sleight and Richman below:
Export Exchange 18 interview with Tom Sleight, USGC
Export Exchange 18 interview with Scott Richman, RFA