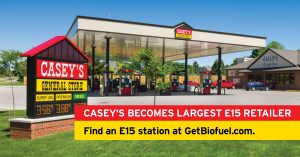 Casey's General Store is partnering with Prime the Pump to expand its offering of E15 to potentially more than 500 locations over the next few years. Prime the Pump is a Growth Energy partner and nonprofit organization dedicated to helping to give more Americans the choice of E15 at the pump.
"Since first rolling out E15, we've seen the benefit the biofuel blend offers in terms of value for our customers and a competitive advantage for our business," said Casey's Director of Fuels Nathaniel Doddridge. "We're excited to partner with Prime the Pump and Growth Energy to build on the success and accelerate our offering of E15 to even more of our customers."
"We are thrilled Prime the Pump is entering into partnership with Casey's and taking it to record-breaking heights to give more American drivers a cleaner burning, engine-smart option at the pump," said Growth Energy CEO Emily Skor. "Casey's has seen the value E15 brings to their business and to their customers, and will soon be the nation's largest E15 retailer. This announcement underscores the critical need for lawmakers to approve year-round use of E15."
Casey's began offering E15 fuel at select stores in the Midwest in March 2017. Today, Casey's is among the nation's leading independent retailers including Kwik Trip, Sheetz, Kum & Go, Minnoco, RaceTrac, Thorntons, Protec Fuels, QuikTrip, Family Express, Holiday, Murphy USA, Holiday, Rutter's, and Cenex offering E15 at more than 1,600 stations across 30 states. Find one near you at GetBiofuel.com.