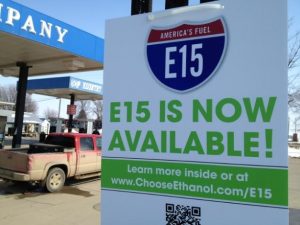 Christmas came very early this year for ethanol stakeholders who have been pressing for sales of E15 to be allowed year round, as President Trump announced he was instructing the Environmental Protection Agency (EPA) to initiate a rulemaking process that would extend the summer Reid Vapor Pressure waiver to E15.
"What it really means is that we're helping our farmers," said President Trump to reporters asking questions as he arrived in the Midwest for a rally in Council Bluffs, Iowa – adding that "there is no negative impact" on the environment by allowing E15 to be sold all year. "In fact, there are those that say, you do this and the air is cleaner, I agree with that," Trump said. Pres. Trump comments on E15 to reporters
Following the announcement, Growth Energy CEO Emily Skor hosted a telephone press conference with Iowa farmer Kelly Nieuwenhuis, Iowa ethanol producer Delayne Johnson with Quad County Corn Processors, and E15 retailer Mike Lorenz, Sheetz.
Listen to or download here – Growth Energy E15 press conference
American Coalition for Ethanol (ACE) CEO Brian Jennings thanked the president for making good on his promise and asked EPA to work quickly on rulemaking. "The President's decision will not prevent Big Oil from stonewalling year-round E15, so we encourage Acting EPA Administrator Andrew Wheeler to expeditiously publish a legally-defensible approach for extending RVP relief to E15 in the Federal Register for public comment and to finalize the rule before the 2019 low-RVP season kicks-in."
Renewable Fuels Association (RFA) CEO Geoff Cooper says the announcement should help expand availability of E15 nationwide. "This is the right signal to the marketplace at just the right time, as both farmers and renewable fuel producers desperately need new market opportunities and sources of demand."
RFA Chairman Neil Koehler, CEO of Pacific Ethanol, was featured on Fox Business just as the announcement was made official. "It's very positive for our business, we are the world's sixth largest ethanol producer," said Koehler, as the company's stock ticker was shown heading up. "Now we have a growth story because of this announcement." RFA chairman Neil Koehler, Pacific Ethanol, on Fox Business
Koehler added that the announcement was great news also for American farmers, and National Corn Growers Association (NCGA) President Lynn Chrisp agrees.
"Earlier this year, the President correctly described this barrier as 'unnecessary' and 'ridiculous'," said Chrisp. "The President also faced pressure to fix this regulatory problem through a bad deal that would have been harmful to farmers. He made the right decision to move this common-sense regulatory relief on its own, and farmers are very grateful."