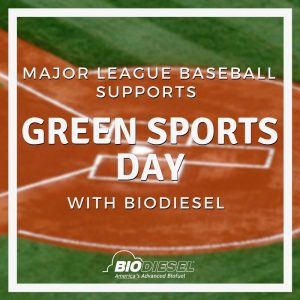 Sports fans nationwide celebrated sustainable practices over the weekend on October 6 – Green Sports Day. The annual event recognizes the efforts that athletes, supporters, and organizations make to reduce their environmental footprint and baseball fans are already seeing a difference with cleaner air thanks to biodiesel.
The Kansas City Royals, Milwaukee Brewers, and the San Diego Padres are among many teams whose stadiums are recycling used cooking oil into clean burning biodiesel. During the Royal's recent championship season, the stadium totaled more than 61 tons of food waste, recycling more than 4,500 gallons of oil. The Brewers home stadium, Miller Park, recycled 6,347 gallons of cooking oil last year alone.
The Green Sports Alliance inspires professional sports leagues, college conferences, sports governing bodies, colleges, teams, venues, their partners and millions of fans to embrace renewable energy, healthy food, recycling, water efficiency, safer chemicals and other environmentally preferable practices. Alliance members represent nearly 600 sports teams and venues from 15 sports leagues in 14 countries.