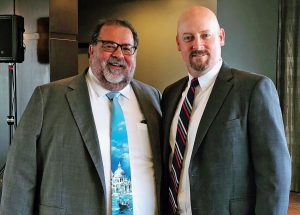 At the Renewable Fuels Association annual membership meeting this week in Kansas City, Geoff Cooper officially became RFA's new President and CEO and Bob Dinneen began his new role as Senior Strategic Advisor, according to the succession plan announced in July.
Cooper joined RFA in 2008 as the organization's Director of Research and Analysis and since that time has led RFA's regulatory activities, while also overseeing the association's research and technical initiatives, supporting public and media relations efforts, assisting with legislative initiatives, and managing the Renewable Fuels Foundation.
As part of RFA's restructuring, the association also announced the following additional staffing changes:
– Jessica Bennett, who joined the RFA staff in January 2018, has been promoted to lead Government Affairs, with the new title, Vice President of Government & External Affairs.
– Connor Hamburg will join RFA later this month as the new Director of Government Affairs. After working for several members of Congress, Hamburg was most recently Manager of Public Policy and Regulatory Affairs for the National Corn Growers Association.
– Jackie Pohlman has been hired as RFA's new Manager of Member Relations. Pohlman comes to the RFA from the National Corn-to-Ethanol Research Center (NCERC) at Southern Illinois University – Edwardsville, where she led client relations.
In addition, RFA elected Neil Koehler, co-founder and CEO of Pacific Ethanol, as chairman of the RFA board of directors, Jeanne McCaherty of Guardian Energy LLC as the board's Vice Chair, and Charles Wilson of Trenton Agri Products LLC as the board Treasurer.
Koehler succeeds Mick Henderson, general manager of Commonwealth Agri-Energy LLC, as RFA chairman. He has served on the RFA Board of Directors since 1992, and received RFA's prestigious Industry Award in 2017. Sacramento-based Pacific Ethanol operates nine biorefineries in Nebraska, Illinois, Idaho, California and Oregon with a combined operating capacity of 605 million gallons per year.