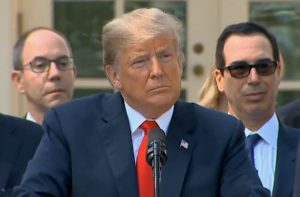 During a press conference to announce the new U.S.-Mexico-Canada agreement (USMCA) Monday, President Trump dropped hints about a big announcement to be made in Iowa soon – but the word has already been circulating since last week.
As soon as he started the press conference, Trump thanked Sen. Joni Ernst (R-IA) for being there, saying he would be in Iowa "very soon" and that they were doing something "very important" in the state. He also mentioned "working on some other deals" that are going to make farmers "very happy."
Media outlets began reporting last week that Trump is planning to visit Council Bluffs on October 9 and announce a deal to allow the year-round sales of 15% ethanol (E15) during a campaign event. The announcement is also expected to include restrictions on the trading of Renewable Identification Numbers (RINS).
The National Farmers Union came out with a press release last week urging the President to follow through on his promises by allowing year-round use of E15, ahead of "an expected Trump Administration announcement on changes to the nation's biofuel policies."
NFU President Roger Johnson said that while an E15 waiver is a step in the right direction, "such an announcement must be accompanied by a provision that makes up for the billions of gallons of lost demand as a result of hardship waivers, as well as a commitment not to further erode demand through continued use of waivers."
The American Petroleum Institute went into high gear on Friday as word of the potential announcement spread, holding a telephone press conference with reporters and calling the idea of allowing an E15 waiver "a flawed, anti-consumer policy." API Downstream Group Director Frank Macchiarola also said restrictions on RINs trading would only make "the RFS' RIN requirements even more burdensome for refiners."