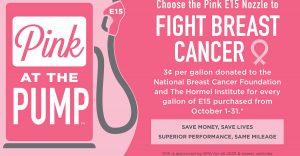 Motorists driving through Iowa can help to prevent breast cancer by choosing E15 this October.
As part of the 3rd annual Pink at the Pump® campaign, over 50 Iowa retailers will donate three cents of every gallon of E15 sold from October 1-31 to the National Breast Cancer Foundation (NBCF) and The Hormel Institute, split evenly between the two organizations.
"October is Breast Cancer Awareness Month and choosing E15 is a simple and practical way drivers can make a difference today to help prevent this terrible disease," said Iowa Renewable Fuels Association Managing Director Lucy Norton. "Ethanol is the cleanest source of fuel octane in the world. The more ethanol a fuel contains, the less toxic, cancer-causing chemicals are being released into our air. So not only will E15 purchases this month go toward research and support services, but choosing E15 can help prevent cancer all year long."
NBCF focuses on providing help and inspiring hope to those affected by breast cancer through early detection, education and support services. The Hormel Institute is a global, cutting-edge research facility with a seven-decade history of making significant scientific discoveries on better ways to prevent, detect, and treat cancer.
Pink at the Pump® is a joint effort between IRFA and Iowa Corn Promotion Board. For the entire month of October, participating locations will feature pink nozzle guards for E15, pink promotional t-shirts for staff, and many other pink point-of-sale materials.