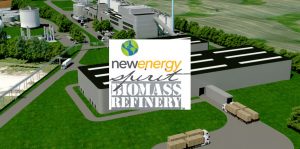 NewEnergyBlue is about six months away from breaking ground on a cellulosic ethanol refinery that will turn North Dakota straw into low carbon fuel for California drivers.
New Energy Spirit Biomass Refinery is forecast to turn 280,000 tons of North Dakota wheat straw into 16-million gallons a year of some of the lowest carbon auto fuel selling in California, the world's fifth largest market.
Located near Jamestown, North Dakota, the refinery is expected to produce not only cellulosic ethanol capable of exceeding California's rigorous air-quality standards, but also clean lignin to reduce stack emissions in coal-fired power plants, as a replacement for wood chips. Lignin is also a lightweight binder for composites that replace metal parts in automobiles and other products.
After the Spiritwood refinery is up and running on Dakota straws, NewEnergyBlue intends to double capacity of future biomass refineries and also process corn stalks.