The availability and use of E15, or 15 percent ethanol blended fuel, has been growing steadily since it was approved by EPA in 2011 for use in model year 2001 and newer vehicles but challenges remain for retailers who want to sell it and consumers who want to use it. Even President Trump has voiced his support for E15 over the past year. Recently, Growth Energy welcomed the fuel industry's leading independent E15 retailers at their fourth annual Prime the Pump retreat in Brainerd, MN.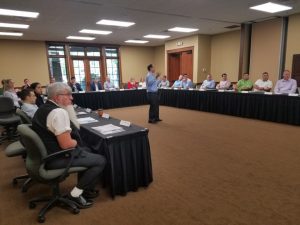 The three-day Prime the Pump retreat allowed attendees to share best practices for tackling industry challenges. "This ongoing collaboration with retailers ensures that we're not only continuing to expand the E15 footprint to give more Americans access to a cleaner burning fuel, but that we're also delivering the best marketing tools and practices for our partners to be successful," said Growth Energy Vice President of Market Development Mike O'Brien.
In this Driving Ethanol podcast, Mike O'Brien discusses how they are working with retailers to continue to grow the availability of the fuel and educate consumers about the benefits.
Growth Energy Driving Ethanol Podcast 9-5-18