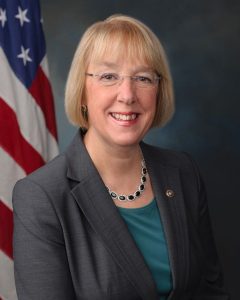 A bipartisan group of nearly 40 U.S. Senators led by Patty Murray (D-WA), Roy Blunt (R-MO), Heidi Heitkamp (D-ND), and Chuck Grassley (R-IA) have sent a letter urging the Environmental Protection Agency (EPA) to increase volume obligations for biomass-based diesel and advanced biofuel and ensure any small refiner economic hardship exemptions are appropriately accounted for in its final rule for the Renewable Fuel Standard (RFS). The EPA's June 2018 proposal would raise the biomass-based diesel volume for 2020 to 2.43 billion gallons and increase the advanced biofuel volume for 2019 to 4.88 billion gallons.
"While these proposed increases are encouraging, these volumes continue to underestimate the existing potential of the biodiesel and renewable diesel industries in our states," the senators wrote. "We believe the biodiesel industry can do more and that EPA should demonstrate more confidence in the RFS program's ability to drive growth. Increasing biomass-based diesel and advance biofuel volumes would encourage investment in capacity and new fuel development. Further, EPA must accurately account for small refiner economic hardship exemptions in the final rule. … It is critical that EPA appropriately account for any small refiner economic hardship exemptions that it reasonably expects to grant during the 2019 compliance year in the final rule, or EPA will not be able to fulfill its duty to ensure RVOs are met."
National Biodiesel Board vice president of federal affairs Kurt Kovarik thanked the senators for their support and particularly calling for EPA to account for small refiner hardship exemptions.
"NBB estimates that the exemptions granted by EPA for 2016 and 2017 reduced demand for biodiesel and renewable diesel by about 300 million gallons," said Kovarik. "That lost demand is equal to or greater than the annual production of some of the nation's top biodiesel producing states, including Washington, Missouri, North Dakota and Iowa. The volumes that EPA sets are meaningless if the agency does not ensure they are met at the end of the year."