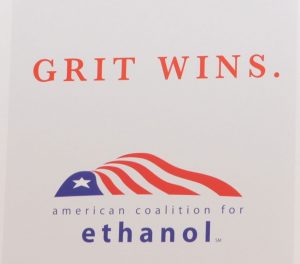 The 31st annual American Coalition for Ethanol conference last week was another successful one for the grassroots ethanol organization during yet another challenging time for the industry, according to CEO Brian Jennings.
"I think there's some concern in the industry about where we're going to find that next gallon of demand," said Jennings. "I'm hoping people walked away with a dose of reality saying 'Let's get to work.'"
The theme of "Grit Wins" was meant to empower members of the industry to look at all they have accomplished with the odds against them. "We know that we are outnumbered, we are outspent, we don't have the money that oil companies have, but we have a fantastic fuel…and we just have to continue to fight," said Jennings.
In this interview, Jennings also talks about the new White Paper released by ACE at the conference, and comments to the EPA submitted on Friday – Interview with Brian Jennings, ACE CEO
Find audio of presentations, interviews, photos and video from the annual meeting on the ACE Conference virtual newsroom.
2018 ACE Conference Photo Album