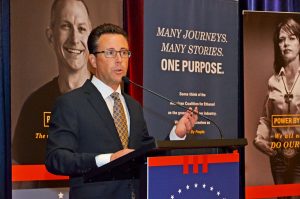 The American Coalition for Ethanol (ACE) kicked off its 31st annual conference at the Renaissance Depot Hotel in Minneapolis discussing some of the challenges and opportunities facing the industry.
The theme of the 2018 conference is "Grit Wins" and ACE CEO Brian Jennings commended attendees for staying strong in the face of attacks oil refiners have launched on ethanol this year. "Wrangling over market share with the most profitable companies in the world has always required our industry to be resourceful — to punch above our weight," Jennings said. "But we have leverage before the midterm election. Candidates need your vote. Rural America needs to speak out about the fact that farmers are losing money while refiners have the best of both worlds — fat profit margins and minimal RFS compliance costs."
"Enlisting the help of our allies in the Senate, the many Governors who support us, and through candidates who need our vote this fall, we must keep grassroots pressure on the White House and EPA to make good on President Trump's promises to maintain 15 billion gallons in the RFS, which means reallocating the small refinery exemptions, and to issue a clean RVP rulemaking for E15 and higher blends," Jennings added.
Listen to Jennings' comments here: ACE18 Opening remarks from CEO Brian Jennings
You can also watch this morning's opening general session in this video:
2018 ACE Conference Photo Album