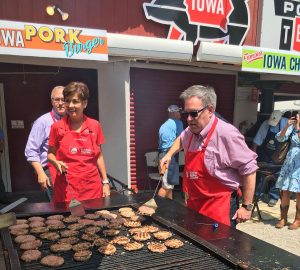 Acting EPA Administrator Andrew Wheeler got a taste of the famous Iowa State Fair Monday as the guest of Iowa Governor Kim Reynolds and while he had some fun, Wheeler was there to meet with farmers about critical issues.
"I enjoyed the round table we just had with different ag groups in the state…hearing what their concerns and problems are," Wheeler told reporters as he left the meeting with Gov. Reynolds.
One of the main topics of discussion was the Renewable Fuel Standard (RFS), but Wheeler had little to say about how EPA is addressing the biggest concerns of corn farmers and ethanol producers.
"We're looking at the small refinery exemptions…trying to provide more certainty around that….and looking at the RVP, E15 year round, what we can do and how we can go about doing something," said Wheeler.
The audio is hard to hear because of background noise, but you can also see the video from the Des Moines Register.
Audio file – EPA Acting Admin Wheeler in Iowa