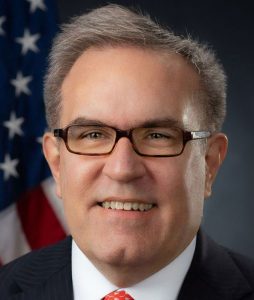 Iowa Governor Kim Reynolds, along with Congressman David Young and Iowa Secretary of Agriculture Mike Naig, are hosting Environmental Protection Agency (EPA) Acting Administrator Andrew Wheeler at the Iowa State Fair today (Monday) to talk biofuels and farming. Wheeler was invited to visit Iowa and hear from those impacted by attacks on the Renewable Fuel Standard (RFS).
"I look forward to introducing Acting Administrator Wheeler to our hardworking Iowa farmers and showcasing the potential of Iowa agriculture when we expand markets for renewable fuels," Gov. Reynolds said. "We will discuss issues affecting Iowa farmers, with the importance of the RFS being at the top."
The governor, congressman, secretary and acting administrator will meet with Iowans at the fair on Monday and hold a roundtable with farmers, agribusinesses and those who benefit from a strong RFS.