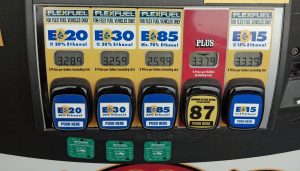 The proposed Fuel Economy Standards for 2021-2026 Vehicles could put high octane ethanol in the fast lane at last.
The Environmental Protection Agency (EPA) and the National Highway Traffic Safety Administration (NHTSA) are seeking public comment on a wide range of regulatory options proposed in the SAFE Vehicles Rule, including how high octane fuels could facilitate engine efficiency improvements and reduced emissions. Ethanol trade groups say that provides a great opportunity for higher ethanol blends.
Renewable Fuels Association Executive Vice President Geoff Cooper says "RFA has relentlessly advocated throughout the midterm evaluation process that the impact of fuel properties on efficiency and emissions must be considered, and we provided detailed information showing that high octane fuels can provide tremendous benefits. We are pleased to see that EPA's proposal recognizes that high octane fuels can help enable more efficient engines and reduce GHG emissions."
"This proposal provides a valuable opportunity to highlight the benefits of high-octane, low-carbon fuels, such as mid-level ethanol blends like E30," said Growth Energy Vice President of Regulatory Affairs Chris Bliley. "We look forward to participating in this discussion to show how ethanol blends can help automakers meet future GHG standards and provide immediate consumer benefits."
"EPA now appears to recognize it will need to increase the minimum octane of fuel to help automakers maintain engine efficiency and reduce greenhouse gas (GHG) emissions, going so far as to reference an octane level of 100 and a role for E30 blends," said American Coalition for Ethanol CEO Brian Jennings. "Ethanol-enriched, high octane fuel in the 99-100 RON range would enable automakers to simultaneously reduce GHG emissions and improve fuel economy."
The rule will now be open to a 60-day public comment period and EPA will hold public hearings in Washington, D.C., Detroit, Michigan, and Los Angeles, California.