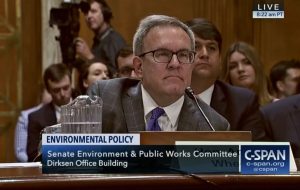 During a Senate Committee on Environment and Public Works hearing Wednesday, Acting EPA Administrator Andrew Wheeler was pressed for answers about the demand destruction created by small refinery exemptions, how EPA intends to reallocate the waived gallons, and when the agency will approve E15 use year-round.
Senators Joni Ernst (R-IA), Mike Rounds (R-SD), Deb Fischer (R-NE), and Tammy Duckworth (D-IL) all spent questioning time on Renewable Fuel Standard issues, but many answers from Wheeler were vague and noncommittal. Wheeler clearly believes the waivers should be granted under the law, but he expressed no clear direction on how, or even whether, the waived gallons should be reallocated.
Wheeler said several times that EPA intends to publicize a "dashboard" to provide more transparency about the circumstances around why refineries receive exemptions from RFS compliance. "We're developing a dashboard so the whole public can see what we're doing and when and how we are granting the waivers," said Wheeler.
The acting administrator served on the Senate EPW committee from 2003-2009 and actually helped to write parts of the RFS dealing with the refinery exemptions and he told Sen. Rounds, "I wish we had spent a little more time on some of the details of it now that I'm helping to implement it."
Sen. Ernst pointed out that if the traditional ethanol statutory requirement is 15 billion gallons, and EPA has effectively waived 10 percent of that, the agency is not implementing the RFS in a manner consistent with the original intent of Congress. "Part of the original intent of Congress was also to grant the waivers and there was not a provision to reallocating that," said Wheeler. "I agree we have to figure out a reallocation strategy, but we are confined by the law."
"And the law does require 15 billion gallons," Sen. Ernst responded.
Ernst also pressed Wheeler on allowing E15 to be sold all year. "We can certainly start that process," said Wheeler. "There are certainly people that don't believe we have that authority."
Wrapping up his questioning, Sen. Rounds told Wheeler, "You've taken care of the small refineries, but you haven't taken care of the small farmers."
Listen to the senators' questions and Wheeler's answers below:

Wheeler hearing - Sen. Ernst
Wheeler hearing - Sen. Rounds
Wheeler hearing - Sen. Fischer
Wheeler hearing - Sen. Duckworth