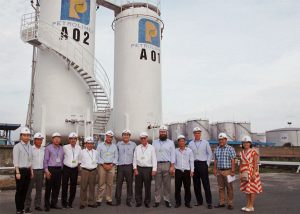 The U.S. Grains Council (USGC) and ethanol industry partners joined the recent USDA Agricultural Trade Mission to Indonesia in July, led by USDA Undersecretary for Trade and Foreign Agricultural Affairs Ted McKinney.
Indonesia currently imports half of its gasoline demand, and the government has set a goal for renewables to represent 23 percent of the country's energy mix by 2025 and to reduce greenhouse gas (GHG) emissions by 29 percent by 2030. Importing high octane ethanol could help Indonesia achieve that by reducing the use of aromatics. Instead, the Indonesian government has instituted import restrictions and high tariff rates for ethanol and ethanol products inconsistent with those for gasoline or aromatics, so the Council delegation met with Indonesian ministry officials to highlight the benefits of increased ethanol use in terms of air quality and GHG emission reductions.
The delegation also visited Vietnam, which started offering E5 this year with a goal to move to E10 by 2020, as total gasoline consumption rates are expected to grow by nearly 10 percent annually. The Council delegation met with Vietnamese energy ministry officials, ethanol producers and oil industry members to learn more and offer their support for the country's trade-friendly policies.
The Vietnamese ethanol industry expects to source some of the ethanol needed to fulfill these mandates domestically from local cassava producers. But, the government and industry are open to importing ethanol should domestic production fall short of feedstock needed to fulfill the mandate, as ethanol plants come back online or feedstock prices fluctuate.