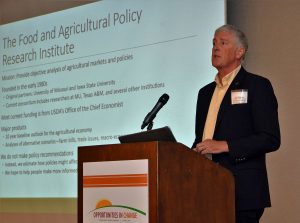 The Food and Agricultural Policy Research Institute (FAPRI) recently released its 2018 International Biofuels Baseline Briefing Book which provides economic and policy perspective and projections for both ethanol and biodiesel.
"If we continue current policies, which is a big if, we would expect that the U.S. would continue to be an exporter of ethanol and an importer of biodiesel," said FAPRI director Dr. Pat Westhoff. "The biggest uncertainty in the market is the RFS in the future."
According to the report, biofuel markets continue to be sensitive to changes in farm commodity markets, petroleum markets, and biofuel policies. Stronger ethanol prices are expected in the coming years, while the biodiesel price is expected to follow vegetable oil prices and remain flatter over the projection period. U.S. ethanol net exports are projected to surpass 5 billion liters by 2027.
Listen to my interview with Dr. Westhoff here: Interview with Dr. Pat Westhoff, FAPRI