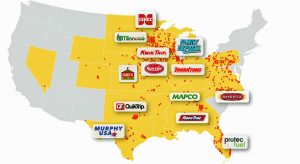 In the midst of Reid Vapor Pressure (RVP) restrictions on the sale E15 fuel across most of the country, American drivers have still driven another billion miles on 15 percent ethanol fuel in the past two months, for a total of 5 billion miles on E15, according to Growth Energy. The latest milestone was reached as consumers only have access to E15 in Reformulated Gasoline (RFG) markets or if they drive flex fuel vehicles.
"When we give consumers a better option at the pump, they choose E15 again and again," said Growth Energy CEO Emily Skor. "That's why Americans have surpassed more than 5 billion miles on E15, which provides unrivaled value for their engines, the environment, and their wallets."
Working hand-in-hand with Prime the Pump, a nonprofit organization dedicated to helping build the infrastructure and distribution of higher biofuel blends, Growth Energy has doubled the number of E15 stations four years in a row to include 1,400 stations across 30 states. In addition to the stores currently selling E15, Growth Energy and Prime the Pump have secured commitments for more than 2,800 retail sites that will offer E15 by 2021, generating approximately 350 million new ethanol gallons annually.
It was the first week in May that Growth Energy announced the four billion gallon milestone.