Corn prices are barely at break-even levels right now, so every advantage a grower can get to make a little extra per bushel is well worth it these days.
Steve Stenzel of Hamburg, Iowa has been growing Enogen corn for four seasons now and he says it has worked out very well for him. "We've been very happy with the yields and the premium," said Stenzel during an interview at the recent Iowa 250 NASCAR race presented by Enogen. He provides corn for two different ethanol plants in southwest Iowa. "I like the Enogen product in that farming is providing that enzyme (for the ethanol plant) that otherwise would be brought in commercially from another industry."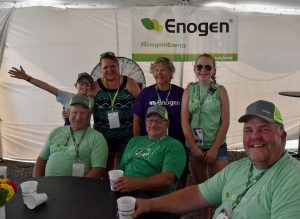 Enogen corn farmers from several states attended the race earlier this month, courtesy of Syngenta, and most are looking at a corn crop right now that is rated as much as 86 percent good to excellent. With the possibility of yet another bin-busting crop, growers are pleased that Enogen corn offers the potential to earn up to a $.40/bu (on average) premium for grain delivered to the ethanol plant. Enogen corn is expected to generate approximately $28.5 million of additional revenue for local growers in 2018 through per-bushel premiums.
Listen to comments from a few growers and seed dealers at the race from Iowa, Nebraska, Minnesota, and North Dakota –
Comments from guests at Syngenta Enogen race
Interview with Steve Stenzel, Iowa Enogen corn farmer
NASCAR Xfinity Series Iowa 250 presented by Enogen Photo Album