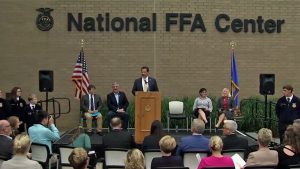 The National FFA Organization and AgriNovus Indiana have joined together to announce the "Blue Room" will debut at the 2018 National FFA Convention & Expo in Indianapolis Oct. 24-27.
The Blue Room is the kickoff to Blue 365, an initiative that will bring this same innovation into classrooms and impact more than 650,000 members nationwide. FFA student members are the future leaders of the food industry, which is relying on this generation to meet unparalleled challenges to feed a growing world population.
The 17,000-square-foot interactive Blue Room will center on the challenges facing our community—from respecting the planet to the urgent matter of feeding the world. This cutting-edge approach will focus on experiential learning and thought-provoking exposure to the convergence of agriculture, technology, human health, engineering, and more.
Corteva Agriscience, the agriculture division of DowDuPont, and Elanco are also proud participating sponsors of The Blue Room and supporting partners of AgriNovus Indiana.
Making the Blue Room announcement Monday in Indianapolis were National FFA CEO Mark Poeschl, AgriNovus Indiana president and CEO Beth Bechdol, Indiana Gov. Eric Holcomb, and FFA alumnus Loren King. Listen to their remarks here: National FFA and AgriNovus Indiana Announce Blue Room