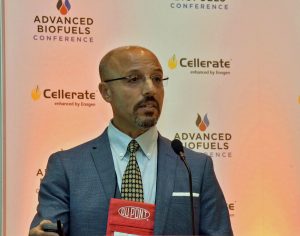 The Advanced Biofuels Conference ran in conjunction with the 2018 Fuel Ethanol Conference last week in Omaha and several sessions were sponsored by Cellerate® process technology, enhanced by Syngenta Enogen corn.
Miloud Araba, Technical Services for Enogen, participated in two panels to discuss how Enogen and Cellerate are helping move advanced biofuels forward. "Cellerate allows producers to get more ethanol, maybe more cellulosic ethanol as well, and also improves yield by converting fiber and getting more oil," said Araba. "More importantly, it adds value to the feed part by concentrating the protein and improving digestibility."
Cellerate and Enogen corn can help deliver notable benefits to ethanol plants beyond what can be achieved through either technology alone – including increased throughput and yield and a notable reduction in natural gas, electricity and water usage.
Araba also discussed how farmers growing Enogen corn are producing enzymes for ethanol plants, which saves plants from having to add them in the process. "An enzyme could come from anywhere, here we're doing it in the corn itself, and it's produced locally," he explained.
Learn more in this interview: Interview with Miloud Araba, Enogen