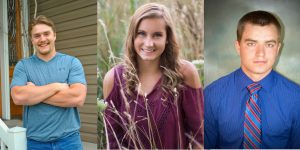 The American Coalition for Ethanol (ACE) has announced the winners of its 2018 scholarship program recipients. Keithen Drury, Brett Galles, and Emma Baker will each receive a $1,000 scholarship to help further their collegiate education.
Keithen Drury from Blue Hill, Nebraska, is pursuing a degree in Mechanical Engineering at Dordt College in Sioux Center, Iowa. Keithen is the son of Terry and Penny Drury. His father Terry is employed at ACE ethanol producer member Chief Ethanol Fuels in Hastings, Nebraska.
Brett Galles of Remsen, Iowa, will be attending Iowa State University in Ames where he plans to study Industrial Engineering. Brett is the son of Bart and Kelly Galles. His father Bart is employed with ACE ethanol producer member Little Sioux Corn Processors in Marcus, Iowa.
Emma Baker is from Lena, Illinois, and will be pursuing nursing at Highland Community College in Freeport. Emma is the daughter of Ray and Amy Baker. Her father Ray works for ACE ethanol producer member Adkins Energy in Lena, Illinois.
The ACE Scholarship Program was initiated in 2004, and ACE has awarded $53,000 since then. Scholarships are made available to employees and dependents of employees and shareholders of ACE Ethanol Producer, Voting and Associate member companies and organizations in good standing.