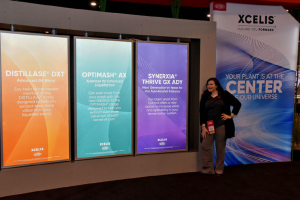 DuPont Industrial Biosciences used the Fuel Ethanol Workshop to showcase three new products geared toward the fuel ethanol market.
All three products are part of the XCELIS platform, which also includes an online partner community for the industry called Grain Changers. Each of these products is already available, according to Judy Underwood, global marketing leader for biorefinery business with Dupont Industrial Biosciences.
Underwood said DuPont

SYNERXIA® THRIVE GX is a next generation yeast product for the fuel alcohol industry. A second product, DuPont

DISTILLASE® DXT, is an advanced glucoamylase blend, designed to help customers extract even more value from liquefied grains through a combination of advanced glucoamylases, trehalase and cold cook alpha amylase.
"Starch gets trapped by the corn fiber, and the fiber presents itself as a really strong matrix," said Underwood. "So this is a way to loosen up that fiber and let some of that starch out so that the alpha amylase in liquefaction can tackle it and solubulize it, leading to higher yields. Really good for producers that have an issue with residual starch."
The third product, DuPont

OPTIMASH® AX, is designed to help customers extract even more value out of nonstarch carbohydrates. It relaxes fibers to release inaccessible starch; increases ethanol yields up to one percent and is complementary to alpha amylase performance.
Underwood said launching three products this year is exciting, but the company is far from finished with innovation in this area.
"We want the audience to know that we are not done and we are still really very invested in this market. We are very invested in research and development to bring even new solutions to the market over the next months and years that will help them become more efficient and drive towards whatever goals they're pursuing," said Underwood.
Listen to Chuck's interview with Judy here: Interview with Judy Underwood, Xcelis