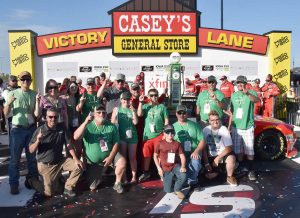 It has been a hot day in Iowa, especially on the track at Iowa Speedway. Winning the NASCAR Xfinity Series Iowa 250 presented by Enogen is Justin Allgaier, JR Motorsports. Here's the Syngenta Enogen team in victory lane with Justin, his wife and daughter and the car.
After all the victory lane festivities Justin came over to the media center for a short press conference. I asked him to give a shout out to all the farm dads here at the track today, especially those corn farmers in the stands, many of whom grow Enogen corn.
Listen to my question/answer with Justin here: Enogen Race Winner Justin Allgaier
I have a lot of pre, during and post race day photos for your viewing/sharing pleasure. I hope you enjoy them.
NASCAR Xfinity Series Iowa 250 presented by Enogen Photo Album