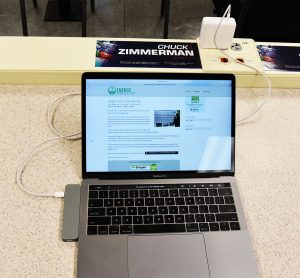 The NASCAR Xfinity Series Iowa 250 presented by Enogen is tomorrow at 4pm central. I'm in early to get myself settled in at the media center. I've always enjoyed this track and have had the opportunity to visit many times.
Once again this year I'm working with Enogen, Syngenta's Corn for Ethanol. I have some interviews scheduled and will be taking photos as the opportunity presents itself. In fact, I'm about to do a walk around to see what I can find.

For the sixth consecutive year, Syngenta is sponsoring NASCAR® racing at Iowa Speedway in Newton, Iowa.
This year's featured event is the Iowa 250 presented by Enogen, a 250-lap NASCAR Xfinity Series race, on Sunday, June 17. Enogen® corn helps to enhance ethanol production and provides corn growers the opportunity to be enzyme suppliers for their local ethanol plant. This year, Enogen premiums-to-date paid to Enogen corn growers are expected to surpass $100 million.

If you'd like to hear more about what Enogen is all about then listen in to my interview earlier this week at the Fuel Ethanol Workshop with Jeff Oestmann, Bio-fuels Operations head, Enogen at Syngenta.
NASCAR Xfinity Series Iowa 250 presented by Enogen Photo Album