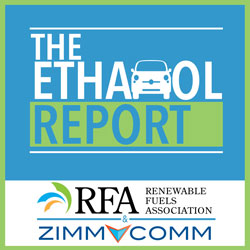 A custom motorcycle that runs on E85 stole the spotlight at the 2018 Fuel Ethanol Workshop in Omaha this week.
The Renewable Fuels Association teamed up with master motorcycle designer Paul Teutul, Jr. to create the patriotic-themed bike that was revealed to the world on the Discovery channel series American Chopper June 11 and Paul Jr. spent time at the trade show meeting and greeting attendees.
In this edition of The Ethanol Report, we hear from Paul Jr. and RFA vice president of industry relations Robert White about the custom bike and how it is part of a larger campaign to educate bikers, boaters and others who have reservations about using ethanol in small engines.
Ethanol Report on Custom RFA Ethanol Motorcycle
Subscribe to the podcast via RSS
Subscribe via iTunes