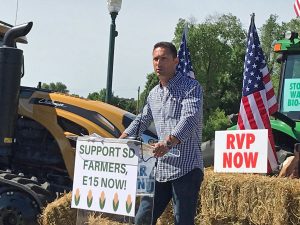 Farmers and ethanol producers in South Dakota held a good old fashioned tractor rally in Sioux Falls as EPA Administrator Scott Pruitt met with farmers in Reliance about 200 miles west. A crowd of about 250 carried signs as speakers called on the administrator to cease granting waivers to refiners causing demand destruction for both corn and ethanol.
"Corn prices right now are at breakeven or below and we've lost 1.5 billion gallons of ethanol to exemptions that EPA has granted to refiners," said South Dakota Corn Growers president Troy Knecht. "That equals about 570 million bushels of corn."
An economic analysis from the Renewable Fuels Association estimates the 2016 and 2017 RFS requirements have actually been reduced by at least 1.63 billion gallons so far and the minimum economic impact of these lost gallons is approximately $5.3 billion.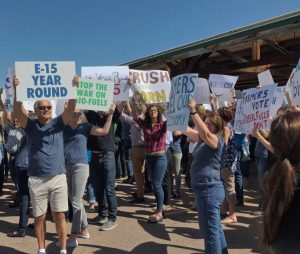 American Coalition for Ethanol (ACE) CEO Brian Jennings says they just want Administrator Pruitt to do his job. "He needs to uphold the RFS as the law of the land and stop the secret waivers and he needs to make good on the president's promise to allow E15 use year round," said Jennings.
He just hopes that this is more than just a publicity stunt for Pruitt. "The last thing farmers need is for Administrator Pruitt to come out to farm country and pander to us, only to go back to Washington to continue doing favors for oil refiners," Jennings said.
Click on the audio files below for Knecht's remarks at the rally and interview with Jennings.
Remarks by Troy Knecht, SD Corn president
Interview with American Coalition for Ethanol CEO Brian Jennings