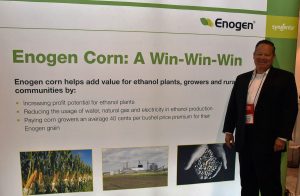 Enogen® is a win for corn growers, ethanol plants and rural communities, and its footprint just keeps growing.
Syngenta now has agreements with more than 30 ethanol plants with a combined production capacity of approximately 3 billion gallons. As new plants come on board, Syngenta expects ethanol produced with Enogen® corn enzyme technology to be approximately 2.5 billion gallons this year alone.
"Across a growing number of ethanol plants, Enogen corn is helping to fuel enzyme innovation," said Jeff Oestmann, Bio-fuels Operations head, Enogen at Syngenta.
Oestmann says Enogen was generating a lot of interest at the Fuel Ethanol Conference in Omaha this week. "We're getting a lot of people here talking to us about the value of Enogen and what it does for their plants," he said.
"The end game is to increase their margins, and that's what we're doing here."
And speaking of winning, Syngenta is sponsoring NASCAR® racing at Iowa Speedway in Newton, Iowa this weekend for the sixth year in a row. This year's featured event is the Iowa 250 presented by Enogen, a 250-lap NASCAR Xfinity Series race, on Sunday, June 17.
Learn more about Enogen's growth in this interview from FEW – Interview with Jeff Oestmann, Enogen