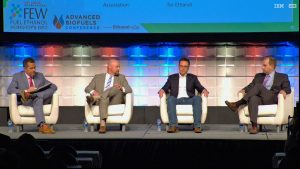 A panel discussion on "Surveying the Health of Renewable Fuels Policy under the Trump Administration" gave participants plenty to talk about during the opening session of the Fuel Ethanol Workshop on Tuesday in Omaha.
The panel included Geoff Cooper, executive vice president of the Renewable Fuels Association (RFA); American Coalition for Ethanol (ACE) CEO Brian Jennings; and John Fuher, vice president of government affairs for Growth Energy.
As EPA Administrator Scott Pruitt was at the same time visiting the East Kansas Agri-Energy ethanol plant, he was brought up numerous times during the panel regarding the agency granting of small refinery exemptions under the Renewable Fuel Standard (RFS). "Frankly, he needs to get his ass chewed by ethanol advocates and farmers," Jennings said of Pruitt.
Listen to the discussion here. FEW18 Industry Panel