Ethanol industry excellence was honored at the 2018 Fuel Ethanol Workshop during Tuesday's general session.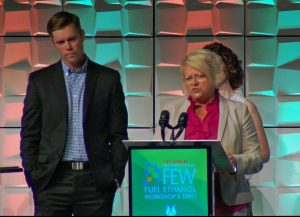 Kristy Moore of KMoore Consulting received this year's High Octane Award, which recognizes a person whose commitment and passion have benefited the ethanol industry. Moore was honored for her more than two decades of service in the industry, which includes working for Archer Daniels Midland and the Renewable Fuels Association (RFA). "I am humbled to join the ranks of Tom Buis and Geoff Cooper by receiving this award," she said.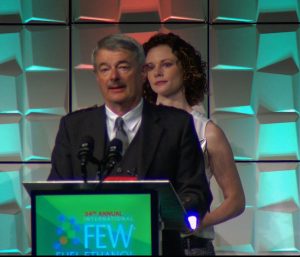 Dr. Graeme Walker received the Award of Excellence in recognition of his more than 40 years of work in the areas of yeast and fermentation. The Scotsman dressed in traditional kilt was also celebrating his birthday as he received the award. "You might be asking yourself why is a Scotsman up here accepting this award? In fact, Scotland doesn't have a particularly active ethanol industry but we have been making ethanol for over 500 years," Graeme said. "The problem is we bottle it!"
In addition to these long time industry awards, some new awards were instituted this year at the workshop.
Pacific Ethanol, Chippewa Valley Ethanol Co. (CVEC), Homeland Energy Solutions, and Al-Corn Clean Fuel were recognized for excellence with the first Ethanol Producer Awards from Ethanol Producer Magazine and BBI International.
Pacific Ethanol Magic Valley Inc., in Burley, Idaho received the new "Good Neighbor Award" for its active participation in community service programs.
"Board of the Year" went to CVEC, which produces beverage and industrial alcohol as well as ethanol and has also invested in Guardian Energy, which owns ethanol plants across the country.
Homeland Energy Solutions of Lawler, Iowa, won "Project of the Year" for its $42.7 million, 35 million gallon per year expansion completed last November.
Al-Corn Clean Fuel in Claremont, Minn., won "Collaboration of the Year," for its work with engineering firm Karges-Faulconbridge Inc., on its 70-million gallon expansion of its ethanol plant.
Listen to the opening of the FEW general session and awards presented. FEW18 Opening session and awards

2018 Fuel Ethanol Workshop Photos