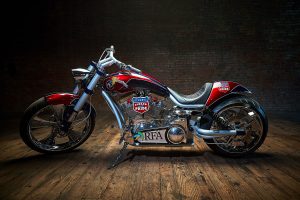 The highly anticipated debut of the custom Renewable Fuels Association (RFA) ethanol motorcycle created by Paul Jr. Designs on Discovery Channel's American Chopper revealed a masterpiece with a patriotic theme that runs on E85.
"The bike encapsulated everything we were hoping to get," said RFA Vice President of Industry Relations Robert White. "Patriotic theme, running on 85 percent ethanol, E85 – it's perfect."
Bike designer Paul Teutel Jr. said it was easier than he expected to make the chopper run on E85. "The only thing we had to do was up the jets about 30 percent and advance the timing a little bit and the thing runs like a top."
Teutel says the whole effort is to help educate people about ethanol. "The same way I got educated about ethanol through the process of building a bike for RFA," he said. "It's about public awareness and letting them know that ethanol is a good product – matter of fact it's a very good product and it works very well in motorcycles."
The custom motorcycle is the centerpiece for RFA's new consumer-focused educational campaign called "Fuel Your Knowledge" to educate and inform consumers about the proper use of ethanol-blended fuels in boats, motorcycles, lawn and garden equipment and other off-road engines.
Teutel was with White last night at a viewing party in Omaha for the big reveal and today will be at the Fuel Ethanol Workshop meeting and greeting folks at the RFA booth from 11 am to 1 pm. The bike will be on display at the booth as well.