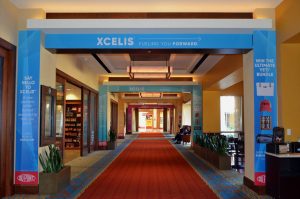 Building off the launch of its fuel ethanol platform DuPont™ XCELIS™ at the National Ethanol Conference, DuPont Industrial Biosciences has unveiled the first three products from the innovation hub.
DuPont™ SYNERXIA® THRIVE GX: Next Generation in Yeast for the Fuel Alcohol Industry
DuPont™ DISTILLASE® DXT: Advanced Glucoamylase Blend
DuPont™ OPTIMASH® AX: Xylanase for Enhanced Liquefaction
The new products are designed to increase yields, speed fermentation and reduce energy and chemical consumption. The new XCELIS™ platform also will feature an online partner community for the industry, GRAIN CHANGERS. This online community and innovative product offerings represent a new age for DuPont's XCELIS™ biorefinery team. By improving performance, efficiency and fuel ethanol yields – and working hand-in-hand with customers – XCELIS™ helps ethanol producers reach their goals with new products, tools and technologies.