It's June 1 and fuel retailers in the majority of the country who were selling 15% ethanol blends yesterday can't today because of what President Trump calls "unnecessary and ridiculous" summertime E15 restrictions.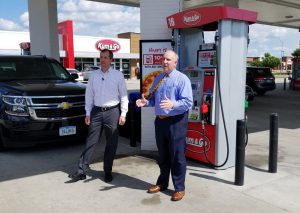 With the deadline approaching yesterday, Iowa Secretary of Agriculture Mike Naig joined the Iowa Renewable Fuels Association (IRFA) in calling on EPA Administrator Scott Pruitt to use his "enforcement discretion" to allow summertime sales of E15.
"We call on Administrator Pruitt to take swift action to resolve this situation and while that process is playing out to provide guidance to retailers to allow for E15 access year round," said Naig.
Listen to Naig and IRFA executive director Monte Shaw here: Iowa ag secretary and Iowa RFA E15 comments