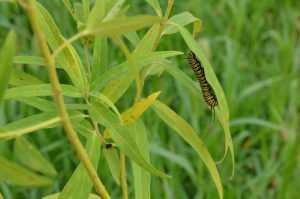 The Iowa Renewable Fuels Association (IRFA) last week announced three new Monarch Fueling Station Projects in the state, including the first retailer locations.
Star Energy FS announced intentions to establish Monarch Fueling Stations at locations in Gowrie, Rockwell City, and Manson. The monarch habitats will span anywhere from over a quarter of an acre to two acres, depending on the location. Seeding is expected to take place within the next month. Star Energy FS is also looking at expanding the project to other locations in future years.
"We at Star Energy FS are excited to come alongside Iowa biofuels plants in this effort to help restore the population of the monarch butterfly," said Jeff Manthei, general manager for Star Energy FS. "This seemed like a natural next step considering we already work closely with Iowa biofuels plants to offer blends of their excellent fuels."
The ADM plant in Cedar Rapids, and Big River Resources plants near West Burlington and Dyersville, are the latest biofuel facilities to join the monarch fueling program.
ADM has selected five acres to transform into a Monarch Fueling Station which will be planted with a prairie grass and flower mixture, including milkweed plants, which monarchs need for laying eggs. The Big River Resources West Burlington project will span roughly 1.8 acres and the Dyersville project will be approximately one acre. Seeding is expected to take place this fall. Big River Resources may also consider establishing similar plots of monarch habitat at facilities outside of Iowa.
The Monarch Fueling Station Project was established by IRFA in partnership with the Iowa Monarch Conservation Consortium in December 2017.