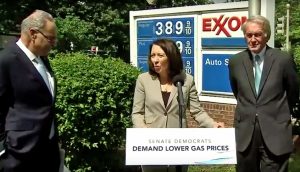 Four Democratic U.S. senators are calling on President Trump to take actions to help lower gas prices, including protecting the Renewable Fuel Standard (RFS).
Sen. Maria Cantwell (D-WA), the top Democrat on the Senate Energy and Natural Resources Committee, was joined by Senate Democratic Leader Chuck Schumer (D-NY), Senator Bob Menendez (D-NJ), and Senator Ed Markey (D-MA), in a letter to the president outlining seven specific actions he could take to "make sure OPEC does not continue to suppress world crude oil supplies" and to "protect domestic policies that help consumers."
"This weekend is the start of the driving season, and the average American household will pay $167 more in fuel costs this summer," said Sen. Cantwell in a press conference. "That is sticker shock to the American family – what they are seeing could get worse, and that is why we are calling on President Trump to act."
Nationwide, the average price of gas is up more than 50 cents per gallon from Memorial Day last year and has jumped 12 cents per gallon in the past 14 days, hitting a four-year high.
Listen to Cantwell's remarks here: Sen. Maria Cantwell on high gas prices
The Renewable Fuels Association (RFA) recently did an analysis of how ethanol is already helping keep gas prices lower than they would be otherwise.