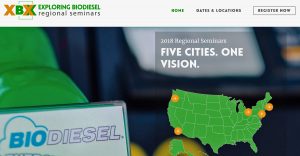 Biodiesel is going on tour this summer for a series of regional, one-day seminars designed to educate fuel wholesalers, distributors, retailers, marketers, fleets, municipalities, and other end users on the benefits and opportunities surrounding America's first advanced biofuel.
The Exploring Biodiesel (XBX) seminars, organized by the National Biodiesel Board and several industry sponsors, will be held in five major cities from coast to coast.
The free events will offer information about biodiesel's place in today's liquid fuels supply chain and how the fuel can be leveraged as a means to increase market share and enhance an organization's brand. The seminars are meant for anyone who consumes, markets, trades or distributes diesel fuel.
The XBX series will stop in five cities over the summer.
Boston, MA | June 12 | 10:00 – 2:00 pm | Boston Marriott Quincy
Philadelphia, PA | July 18 | 10:00 – 2:00 pm | Sheraton Valley Forge Hotel
Los Angeles, CA | August 7 | 10:00 – 2:00 pm | Long Beach Marriott
Portland, OR | August 9 | 10:00 – 2:00 pm | Billy Frank, Jr. Conference Center
Cleveland, OH | September 18 | 10:00 – 2:00 pm | DoubleTree by Hilton Downtown – Lakeside
Learn more at ExploringBiodiesel.com.