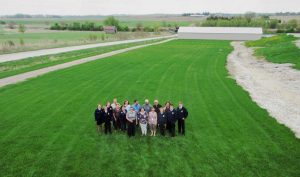 POET Biorefining is establishing a Monarch Fueling Station at its plant near Coon Rapids, Iowa. The Monarch Fueling Station Project was established by Iowa Renewable Fuels Association (IRFA) in partnership with the Iowa Monarch Conservation Consortium in December 2017.
The monarch habitat will span half an acre and seeding is expected to take place within the next month. The plant intends to involve local FFA and STEM students at every step of the process.
"This project is a great opportunity to give back to the environment and the community," said Ryan Filloon, plant manager of POET Coon Rapids. "We are excited to work with the students on planting and maintaining the monarch habitat and to play our part in this state-wide effort to boost the population of these important pollinators."
IRFA developed the program to help Iowa's ethanol and biodiesel plants establish patches of monarch habitat on plant grounds.