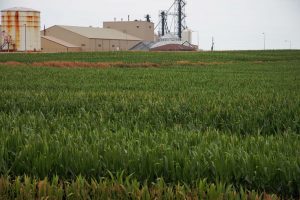 USDA released its May World Agricultural Supply Demand Estimates (WASDE) report last week with an initial assessment of U.S. and world crop supply and demand prospects and U.S. prices for 2018/19. For corn, the report projects lower production with both lower acreage and yields forecast as compared with the previous year.
The corn crop is projected at 14 billion bushels, with a yield projection of 174 bushels per acre. Total corn use is projected to decline slightly in 2018/19, with lower projected domestic use and exports. Growth in the projected demand for corn for use in ethanol and non-ethanol food, seed and industrial uses partly offset declines in the aforementioned areas. Corn used to produce ethanol is up 50 million bushels mostly reflecting expectations of gasoline consumption growth.
The report pegs ending corn stocks at lower levels for 2018/19 with 1.68 billion bushels, down 500 million bushels. The 2018/19 season-average corn price received by farmers is projected to be between $3.30 to $4.30 per bushel with the mid-range projected 40 cents higher than the previous year.