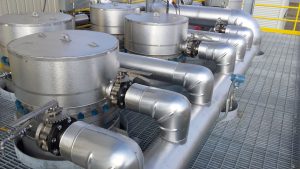 Nebraska's E Energy Adams ethanol plant will continue to expand capacity and increase efficiency by installing a Whitefox Integrated Cartridge Efficiency (ICE) system.
"I've had positive experience working with membrane technology in other industries and always believed it had the potential to play an important role in improving efficiencies in the ethanol industry," said Carl Sitzmann, E Energy Adams CEO. "Once I spoke with Whitefox, I knew their membrane technology was right for us. This installation will help us to increase our capacity further while reducing our carbon footprint, both of which are very important to us. We look forward to a long-lasting and successful partnership with Whitefox."
Nebraska is the second largest ethanol producing state in the country; its geographic position, abundant ethanol supply and reliable rail transportation gives Nebraska a strategic advantage in serving ethanol markets in the western U.S. E Energy Adams is an original 50 million-gallon ICM designed ethanol plant that began operations in 2007. Since then they have continuously worked to improve the efficiency of the plant, and have also expanded their capacity to 80 million gallons.