Tweets from Sen. Chuck Grassley (R-IA) and Sen. Ted Cruz (R-TX) became the official news from the White House meeting Tuesday on ethanol and the Renewable Fuel Standard.
"Had WH mtg on RFS/ethanol. No RIN cap & got E15 yr round. Need to see Perdue+Pruitt plan. Devil in details," tweeted Sen. Grassley. About the same time, Sen. Cruz happily tweeted, "Terrific final decision from @POTUS meeting: E15, year-round plus RINs for all exports. This is a WIN-WIN for everyone. More corn will be sold (good for farmers), plus lower RINs (saves blue-collar refinery jobs), plus more ethanol exports (good for America)."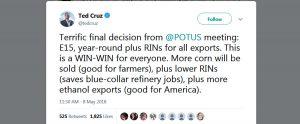 Translated, Grassley said the president agreed to allow the year-round use of E15 and put to rest the idea of a price cap on Renewable Identification Numbers (RINs), but the final details will need to be worked out between USDA and EPA. Cruz added that the decision also included a plan to reallocate Renewable Identification Numbers (RINs) from exempted renewable fuel volumes by allowing exported ethanol gallons to count toward an obligated party's blending requirement.
For the ethanol industry, that amounts to an unacceptable compromise.
"Attaching a RIN to ethanol exports would have a crippling impact on American agriculture," Growth Energy CEO Emily Skor said. "It would also have major trade implications, as export RINs would be considered a subsidy by our global trading partners, who will likely challenge this as unnecessary advantage to U.S. ethanol."
"Our trade partners in the international market certainly would not understand why the lowest-priced ethanol in the world requires an export subsidy," said Renewable Fuels Association President and CEO Bob Dinneen.
"While we are pleased the RIN cap idea is being abandoned, assigning RINs to exported renewable fuel is an equally horrible idea," was the reaction from American Coalition for Ethanol (ACE) CEO Brian Jennings.
And while everyone is pleased that President Trump has agreed to lift the "unnecessary and ridiculous" restriction on summer sales of E15, since that is due to kick in June 1 it would require an immediate presidential action to make that happen this year, which is what the ethanol industry is requesting.