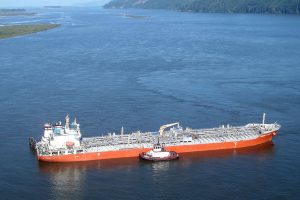 The volume of U.S. ethanol shipments in March was the second-highest in history, just two percent less than the record set in February, according to the latest government data analyzed by the Renewable Fuels Association (RFA). U.S. ethanol exports totaled 215.1 million gallons (mg) in March, with Brazil once again the leading destination for the fifth straight month, receiving 95.9 mg (45% of total exports).
Although Brazil's imports were down 7% from February, they represented the second-largest monthly volume to that country on the books. The U.S. shipped 24.6 mg to Canada, up 11% over February and a 5-month high. Meaningful volumes were shipped to China for the fifth straight month, although March exports retreated 40% from February to land at 19.8 mg. China's April imposition of an additional 15% import duty on ethanol will no doubt contribute to further losses in that market.
March exports of dried distillers grains with solubles (DDGS) were up 8% over February at 905,558 metric tons (mt) with the Mexico and Vietnam being the top two destinations.
Meanwhile, weekly ethanol production figures rebounded back to over a million barrels a day last week, after dropping below the million barrel mark the week before for the first time in 15 weeks to the second-lowest output in 80 weeks. The four-week average for ethanol production in April was 1.015 million b/d for an annualized rate of 15.56 billion gallons.