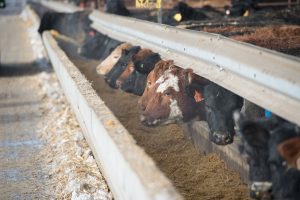 Glycerin is a byproduct of biodiesel production that is often sold to be used as an animal food ingredient. As such, it must comply with the new Food Safety Modernization Act (FSMA) guidelines that go into effect this September, so the Iowa Biodiesel Board has developed a biodiesel Food Safety Program to help producers get into compliance with the new requirements for food-grade ingredients.
"If you're a biodiesel producer and there is a reasonable chance that even some of your glycerin is going into the feed or food supply, then you will have to comply with the Food Safety Modernization Act," said Tom Brooks, chair of the Iowa Biodiesel Board and general manager of Western Dubuque Biodiesel, a plant in Farley, Iowa. "As the largest biodiesel-producing state, the Iowa Biodiesel Board decided we were in a good position to deliver a compliance program to its members, and that it could expand the offering to all biodiesel producers. This is an industry need."
The IBB Food Safety Program helps simplify compliance and reduces cost for biodiesel plants. Covered facilities must develop and implement a written plan that covers hazard analysis, preventative controls, monitoring procedures, corrective action procedures, verification procedures, a supply chain program and a recall plan.
The cost of the program ranges from $3,000 – $6,000 as a one-time cost. At an additional cost, a one-day off-site desk review of the plant's documents or two-day on-site implementation assistance is available.
"Compared to hiring another third party to build a compliance program for you or trying to do it yourself, IBB's program is a simple, affordable way to get into compliance," said Grant Kimberley, IBB executive director. "We hope others outside of Iowa will take advantage of it."
A webinar on the new IBB Food Safety Program will take place on May 10, 10:00 – 10:45 a.m. Central
Click here to register for the webinar.
Learn more about the program from the Iowa Biodiesel Board