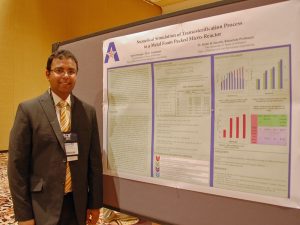 A former co-chair of the Next Generation Scientists for Biodiesel has been selected to participate in the World Energy Council's Future Energy Leaders (NGSB) program. Deval Pandya, who is a Data Scientist in Advanced Analytics at Shell, will participate in the program designed to help shape, inspire and grow the energy leaders of tomorrow.
Pandya said he believes serving as co-chair of the student biodiesel program added value to his application.
"My exposure through the Next Generation Scientists for Biodiesel not only improved my technical understanding of biodiesel, but opened my eyes as to how important it is to look beyond the goggles of science in the nexus of energy, food and water," Pandya said. "Having an outlook balanced by the non-technical part of the equation, like behaviors, policy and geopolitics, has set me up for success."
Pandya served as a co-chair of NGSB from 2011 – 2013, while pursuing his Ph.D. in mechanical engineering from the University of Texas at Arlington. The NGSB program is intended to foster professional relationships between budding and established scientists, share accurate information and increase collaboration with academia and the biodiesel industry. The National Biodiesel Board oversees the program, with support from the United Soybean Board.
Meanwhile, the NGSB program seeks two new co-chairs to join sitting co-chairs Jennifer Greenstein, North Carolina State University and James Brizendine, Missouri University of Science and Technology. Applications are due May 4. Visit BiodieselSustainability.com/next-generation-scientists-for-biodiesel/ for information on how to apply.