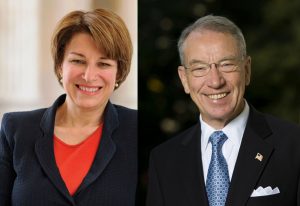 A bipartisan group of senators led by Chuck Grassley (R-IA) and Amy Klobuchar (D-MN) are asking EPA Administrator Scott Pruitt to stop issuing so-called "hardship" waivers exempting obligated parties from the Renewable Fuel Standard (RFS).
The 13 senators are also requesting that EPA provide "information about the waivers already issued, disclose whether or not the agency redistributed the waived volume obligations among the non-exempted obligated parties and outline the agency's plan to make the waiver process more transparent."
Grassley and Klobuchar were joined by Sens. Joni Ernst (R-Iowa), Debbie Stabenow (R-Mich.), Deb Fischer (R-Neb.), Dick Durbin (D-Ill.), John Thune (R-S.D.), Tina Smith (D-Minn.), Roy Blunt (R-Mo.), Claire McCaskill (D-Mo.), Tammy Duckworth (D-Ill.), Heidi Heitkamp (D-N.D.) and Joe Donnelly (D-Ind.).