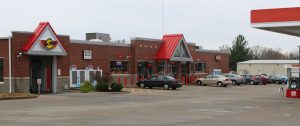 The Renewable Fuels Association (RFA) announced this week that E15 (15% ethanol, 85% gasoline) has debuted in the St. Louis area and will be available throughout the year.
Home Service Oil Co. now offers both E15 and E85 (85% ethanol, 15% gasoline) at the Express Mart location in Pevely, Mo., just off Interstate 55 south of St. Louis. The company, which operates nine convenience stores, plans to offer both E15 and E85 at more of its locations in the next 60 days.
The company has been working in partnership with RFA to bring E15 to its customers and utilized the USDA Biofuels Infrastructure Partnership (BIP) Program to help offset its infrastructure costs. "We are excited to bring higher blends of ethanol to the area, and thank the Renewable Fuels Association for its expertise and help throughout this process," said Home Service Oil Co. President Zachary Mangelsdorf.
Unlike most areas of the country, St. Louis is an RFG market and is able to sell E15 year-round. Reformulated gasoline (RFG) is gasoline blended to burn more cleanly than conventional gasoline and to reduce smog-forming and toxic pollutants in the air. RFA continues to work towards the removal of the regulatory barrier that prevents E15 from being sold year round in conventional gasoline markets, comprising more than two-thirds of the nation.
E15 is approved by EPA for 2001 and newer vehicles, along with all flex fuel vehicles (FFVs). E85 is approved for flex fuel vehicles (FFVs) only.