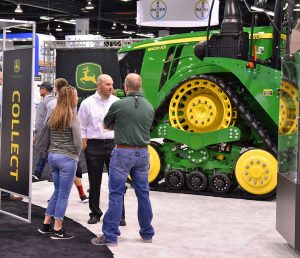 The latest sales data from the Association of Equipment Manufacturers (AEM) shows total U.S. 2-wheel drive tractor sales gained four percent for March compared to last year, while 4-wheel drive tractors sales dropped five percent. Self-propelled combine sales declined 20 percent.
First-quarter 2018 U.S. sales were essentially flat for the smaller-size tractors and 100-plus HP 2-wheel drive tractors declined about five percent for January-March compared to the same quarter in 2017. U.S. 4-wheel drive tractor sales gained about five percent for the first quarter, and U.S. sales of self-propelled combines gained four percent for January-March compared to those months in 2017.
"As we close the first quarter of 2018, we are still cautiously optimistic for continued growth this year, but it's tempered by uncertainty in the farm economy," said Curt Blades, senior vice president, AG services. "We are still contending with diplomatic jockeying over steel tariffs and China trade that is causing concern for the agriculture and manufacturing communities. Headwinds also include potential negative changes to the Renewable Fuel Standard (RFS). And, overall, we're looking at the USDA forecast of a decline in 2018 net farm profits. Many farmers will still need to replace equipment at some point for longer term efficiencies, and we are still hopeful that tax reform could provide a positive stimulus."
Read the full report online: https://www.aem.org/market-data/statistics/us-ag-tractor-and-combine-reports/.