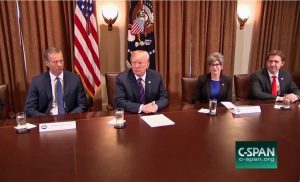 At a White House meeting with governors and members of Congress Thursday, President Donald Trump said he supported allowing the year-round use of 15% ethanol blended fuel (E15).
"This is no guarantee, but we're going to raise it up to 15 percent, which makes a lot of people happy," said the president prior to a meeting with lawmakers on agricultural trade issues. "We're going to go to 12 months, which makes a lot of farmers very happy."
Trump called the current situation where retailers are unable to sell E15 in the summer months "unnecessary and ridiculous" but said there will be a "transition period" which will be "complicated."
"It's going to solve a problem and we're going to be also helping the refineries," Trump said. "We're very close to getting that done."
Listen to Trump's E15 comments here: Trump comments on E15
Senators and governors from states including Iowa, Nebraska, Kansas, North and South Dakota were in that meeting with President Trump and U.S. Trade Representative Robert Lighthizer to discuss recent trade actions and how farmers may be impacted.
President Trump talked about NAFTA, China, the European Union, and his philosophy on tariffs in his full remarks prior to the start of the meeting: Trump talks farm trade issues