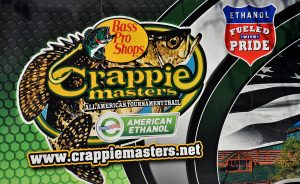 The seventh stop on the 2018 Crappie Masters Tournament Trail was in Emory, Texas this past weekend, showcasing the use of E10 (10 percent ethanol) fuel in fishing boats.
Texas is home to four ethanol biorefineries, including two owned and operated by White Energy in Plainview and Hereford. White Energy CEO Greg Thompson is proud that the Renewable Fuels Association (RFA) is again the co-title sponsor of the Crappie Masters tournament this year. "The Crappie Masters Tournament is the only competition that highlights and promotes awareness of ethanol in marine engines. In fact, every winning team the past three years has used E10 in their boats," said Thompson, in a post on the RFA blog.
"While many consumers understand the numerous benefits of ethanol in vehicles, there continues to be misinformation about the fuel's use in marine engines," Thompson says. "There are 12 million recreational boats in the U.S. and all of them are compatible with E10!"
At the same time, Thompson notes that boaters should be aware that while E10 is approved for use in all marine engines, higher ethanol blends, such as E15, are not. "This should not be a concern for consumers. Federal regulations require higher ethanol blends be clearly labeled at the pump. In the six years since E15 has been offered, there has not been a single reported case of E15 misfueling in a marine or any other engine."
Next stop on the Crappie Masters Tournament Trail is Sunrise Beach, Missouri this weekend on April 14. This will be the first leg of the Missouri State Championship, presented by Spike-It, which will wrap up in September.