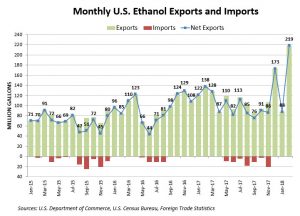 U.S. ethanol exports skyrocketed to a record 218.7 million gallons in February. That is up 148% from January and nearly 50 million gallons more than the previous record set in December 2011, according to government data analyzed by the Renewable Fuels Association (RFA). However, trade sources believe that February's export data includes some volume that was actually exported in late January, particularly to China.
Still, Brazil and China – which both have import tariffs on U.S. ethanol – were the top two markets in February.
U.S. exporters sent a record 103.2 mg of ethanol to Brazil—besting the previous monthly high to Brazil set more than six years ago. February marked the fourth straight month that Brazil was the top U.S. export customer, taking nearly half of all ethanol exports. According to the data, China increased its purchases of U.S. ethanol to a 22-month high of 33.1 mg. Canada and Singapore captured the third and fourth spots at 22.0 mg and 14.8 mg, respectively. These four markets netted 80% of all U.S. ethanol shipments, with the remaining volumes scooped up by 30 countries. Year-to-date exports stood at 307.0 mg through February, marking the strongest start in history.
China was the third-largest market for U.S. ethanol exports in 2016, accounting for nearly a fifth of total exports; however, shipments nearly disappeared last year as the country imposed its first U.S. ethanol import tariff. While U.S. ethanol shipments to China have resumed in recent months given its overwhelming cost competitiveness, China's imposition this week of an additional 15% tariff on top of the existing 30% duty will likely put a stop to further shipments in the near term.
Meanwhile, exports of the ethanol co-product dried distillers grains with solubles (DDGS) dropped seven percent in February to the lowest volume in six months at 835,707 metric tons, despite increases in the top three markets – Mexico (182,411 mt, up 1%), Vietnam (94,206 mt, up 62%), and South Korea (80,466 mt, up 10%).